Cifa, a full-line manufacturer of concrete machinery and equipment, is the market leader in Italy, and one of the leading players worldwide. The company, which has belonged to the Chinese industrial group Zoomlion since 2008, is strongly internationalised, with sales and after-sales networks on all continents, and in addition to its range of reliable, high-quality products also offers customers financial support through Zoomlion Capital Financial Services.

Fot. Cifa
Energya E9: the truck mixer that cares about the environment
At Intermat Paris 2015, scheduled for April (April 20–25), Cifa is back to the public of operators and concrete field aficionados with Energya E9, the hybrid truck mixer that cares and respects the environment. The peculiarity of this vehicle is that the drum is moved by an electrical engine, fed by a state of the art lithium smart battery group, that recharges both during transportation on road and during loading or downtimes. This system thus guarantees a consumption reduction up to 30%, higher attention to the environment thanks to CO
2
emissions abatement and reduction of noise up to 10 dB.
Energya E9 is the ideal solution for castings in closed spaces (e.g. in tunnels), where using an electrical engine is essential, as well as in city centres where it's important to reduce noises and pollutant emissions to improve quality of the air.
New design and performance, under the sign of energy efficiency and environment sustainability, Energya truck mixer was designed in E8 and E9 models, with a carrying capacity of 8 and 9 m
3
respectively, and tested on field in Italy and Germany to prove the reliability of its technical solutions.
For all the technical details of the machine, its functionality and advantages of use, Cifa will meet clients at the fair, in its booth 7H001.
A "different" truck mounted pump
At Intermat 2015 Cifa will introduce the new truck mounted pump model UB504. A completely new product for Cifa, with small size and ease of use of the installation on truck that allow to easily and quickly reach the construction site, even if located in places usually not reachable by other truck mounted pumps, such as narrow city streets, and to easily get close to casting places, in particular for screeds of apartments, basements, car parks or other kinds of construction. Equipped with S6 open circuit pumping unit, with 200x1000 mm cylinders and a 250 litres hopper, it is provided with standard pipes that include all the reductions necessary to realize a complete line.
For Europe it's mounted on a two axles vehicle ISUZU F11, 4060 mm wheel base. Of small size, 7200 mm long and 2618 mm high, it's also available without truck.
Two options of diesel start up: Deutz TD 3.6 L4 engine for European, US and Canadian markets and Perkins 404D-22T engine for all other markets.
MK25H: aesthetic and functional restyling for a quality mixer pump
The new MK25H, presented in first preview at Bauma Munich in 2013, is achieving resounding success all over Europe and it can boast a series of exclusive patents and news which did not fail to amaze clients. Based on their suggestions in fact, Cifa developed a pack of aesthetic and functional updates that will be introduced during Intermat Paris 2015.
MK25H is a truck mixer pump with four sections boom (the final two in composite material) and "Z" folding system assembled on four axles (or 3 for the Italian market) with maximum weight of 32 ton. Piping is 100 mm and the drum has a nominal capacity of 7 m
3
that develops a geometrical volume of 12.8 m
3
and it's made in ultra resistant over 300 HB steel.
The new 607 CC EPC close circuit pumping unit is operated electronically: extremely fluid, it allows a linear cast without shakes, it reduces consumptions and noises, thus reducing vibrations during pumping. The new MK25H, with its two carbon sections, meets requirements of the strict regulations that set weight limits for this kind of machines, allowing clients to carry more concrete each trip, with immediate effects on productivity in the construction site and return on the investment. The boom can be opened in 5.2 m height only and it reaches a pumping height of over 24 m, with a horizontal opening of over 20 m.
To prove quality and high resistance in time of components, Cifa provides to its customers a 5 years warranty for all steel and composite material components and 2 for the structure of chassis of the base machine, beside the 4 years on the drum and a quick and punctual after sales service.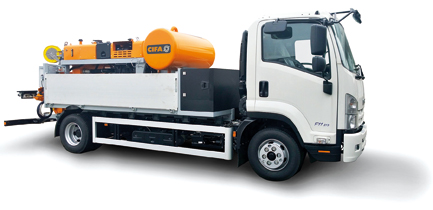 Fot. Cifa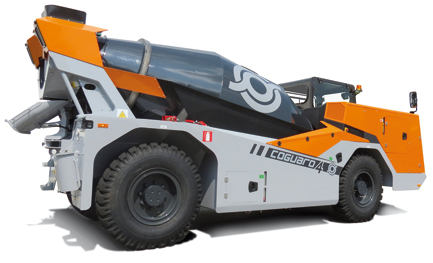 Fot. Cifa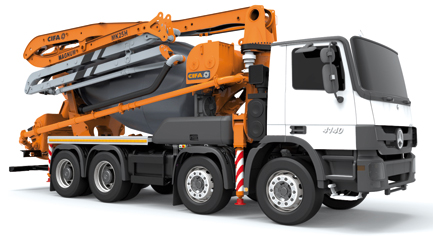 Fot. Cifa
SL9: the light mixer
At Intermat 2015 Cifa will exhibit, among others, one of its historical products: the light mixer SL9 model, with loading capacity of 9 m
3
, rethought and redesigned to move with the times and with the new regulations.
The modern and compact design is turned to improve performances under every aspect: high net volume, simplified maintenance, safety guaranteed in every application, mixer support frame straight or tapered with edge compliant with specifications of the chassis.
The drum is made in anti wear material with different thicknesses due to parts most subject to the corrosive action of concrete, with improved helix for better mixing, while the gravity centre in the middle was lowered for a better driving structure. In other words, SL9 is a little custom-made jewel for the European market.
Cifa Carbotech: two new arrivals Cifa goes on in widening the Carbotech range, truck mounted pumps that thanks to new and performing materials reach longer booms respecting weight limits. Two more models will be introduced to the public at Intermat Paris 2015: K53H and K60H. The Carbotech family thus grows from four to six models.
K53H and K60H can be mounted on 4 and 5 axles trucks.
If mounted on 4 axles, the limit is 42 and 44 ton respectively. For both models the weight limit is widely respected so to allow users to load accessories, water, diesel and so on without breaching circulation rules and/or special permits and/or technical limits of vehicles.
Assembly on 5 axles allows an optimal load distribution on single axles so to allow circulation also in Countries where regulations are stricter. K53H has a 53 m boom made of 5 sections (the final two in carbon fiber) with RZ folding system. K60H has a 60 m boom made of 6 sections (the final two in carbon fiber) with RRZ folding system.
Both of them mount the new and performing HP1808ECX closed circuit pumping unit with maximum capacity of 180 m
3
/h, 83 bar max pressure, 260 mm concrete cylinders that allow to reduce to 27 the number of maximum cycles per minute. A low number of cycles allows to reduce wear and therefore costs related to machine functioning. The standard set up for these models, as well as for the entire Carbotech range, is particularly rich in accessories: beside the advanced management system via Smartronic display, with stability and diagnostic control, it stands out for double thickness pipes Cifa Long Life Pipes, stabilization studied and designed according to the boom length. Come to visit us at our booth 7H001!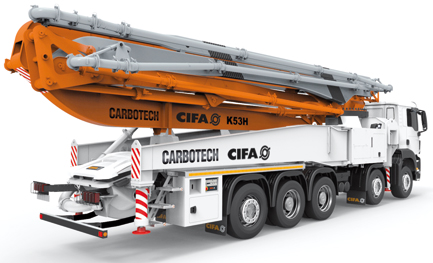 Fot. Cifa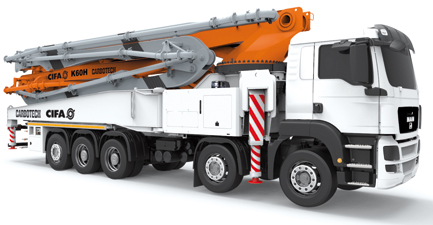 Fot. Cifa
Źródło: Świat Betonu, nr 1-2 (7) 2015